You are here
Back to top
Historic Preservation: An Introduction to Its History, Principles, and Practice (Paperback)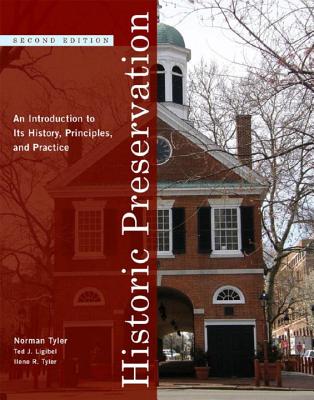 Description
---
Historic preservation, which started as a grassroots movement, now represents the cutting edge in a cultural revolution focused on "green" architecture and sustainability.
This is the only book to cover the gamut of preservation issues in layman's language: the philosophy and history of the movement, the role of government, the documentation and designation of historic properties, sensitive architectural designs and planning, preservation technology, and heritage tourism, plus a survey of architectural styles. It is an ideal introduction to the field for students, historians, preservationists, property owners, local officials, and community leaders. Updated throughout, this revised edition addresses new subjects, including heritage tourism and partnering with the environmental community.
About the Author
---
Norman Tyler, PhD, FAICP, is emeritus faculty of the Urban and Regional Planning Program at Eastern Michigan University, where he was director of the program from 1990 to 2009. He received his Doctoral degree from the University of Michigan and his PhD from Michigan State University. He is a Fellow of the American Institute of Certified Planners (FAICP) and a registered architect, and author of four books on historic preservation, city planning, Greek Revival architecture, and the Peace Corps.

Ted J. Ligibel, PhD, has been employed in the historic preservation field for over forty years as an activist, educator, and author. In his role as director of the Historic Preservation Program at Eastern Michigan University he has influenced countless preservation leaders. He has held national leadership roles as chair of the National Council for Preservation Education, as Ohio Advisor to the National Trust for Historic Preservation, and as chair of the Michigan State Historic Preservation Advisory Review Board. His research and fieldwork facilitated the establishment of two National Parks.

Ilene R. Tyler, FAIA, FAPT, built her career as a preservationist through years of advocacy, writing, teaching, and leadership. As Director of Preservation in the Ann Arbor office of Quinn Evans Architects for twenty-eight years, she designed and documented numerous award-winning historic sites and structures. She currently lives in Ann Arbor with her husband, co-author Norman Tyler, in the historic Robert S. Wilson house, and is active in local, state, and national/international preservation organizations, having several papers in the APT Bulletin.
Praise For…
---
Libraries strong in architecture and historic preservation will find the second updated edition of Historic Preservation a winner.


Historic Preservation is a book that, in being named after its subject, invites high expectations and meets them all.


[A] thorough introduction to the sometimes complicated subject of historic preservation….clear and concise…Current with today's issues.

[I]ndispensable….the authors and the book's editorial advisors accomplish what no others have to date. This is the intellectually accessible basic textbook—that Preservation 101 we all have been seeking. It is useful as a basic reader in the undergraduate classroom, serves as a quick reference for graduate students…and provides information for professionals in foreign countries on how preservation is practiced in the United States. It can also be dipped into as needed by preservation volunteers who, after all, form the backbone of American preservation on a community level.

[A]n essential resource that should be in the library of any preservationist.
— Tim Cannan, President

This book is recommended to students, planners, and citizens interested in the preservation and protection of our local, regional, and national patrimony.

[T]he classic textbook for the field.

[D]eserves a place in the home of anyone interested in the activities of preservation….If we could have only one book on the practice of historic preservation, this may well be that book.

…an impressive textbook…As someone who teaches historic preservation theory to architects, I am looking forward to using Historic Preservation as one of my textbooks next year. I will also recommend this book to anyone interested in historic preservation. Local government officials, historic district commissioners and even owners of historic buildings can all benefit from reading this book.

— Paul Hardin Kapp