You are here
Back to top
Asylum on the Hill: History of a Healing Landscape (Paperback)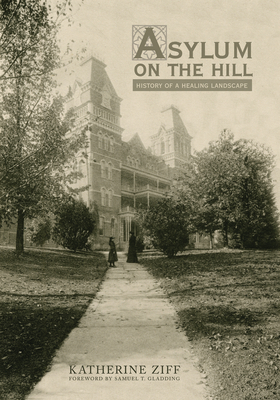 $20.00
Usually Ships in 1-5 Days
Description
---
Asylum on the Hill is the story of a great American experiment in psychiatry, a revolution in care for those with mental illness, as seen through the example of the Athens Lunatic Asylum. Built in southeast Ohio after the Civil War, the asylum embodied the nineteenth-century "gold standard" specifications of moral treatment. Stories of patients and their families, politicians, caregivers, and community illustrate how a village in the coalfields of the Hocking River valley responded to a national movement to provide compassionate care based on a curative landscape, exposure to the arts, outdoor exercise, useful occupation, and personal attention from a physician.
Katherine Ziff's compelling presentation of America's nineteenth-century asylum movement shows how the Athens Lunatic Asylum accommodated political, economic, community, family, and individual needs and left an architectural legacy that has been uniquely renovated and repurposed. Incorporating rare photos, letters, maps, and records, Asylum on the Hill is a fascinating glimpse into psychiatric history.
About the Author
---
Katherine Ziff is a mental health clinician, an exhibiting artist, and an adjunct professor in the counseling program at Ohio University. She has published in places such as the Journal of Creativity in Mental Health, the Journal for Specialists in Group Work, and History of Psychiatry. Ziff conducts workshops for counselors and educators, teaching the methods from her second book, ArtBreak.
Praise For…
---
"Anyone who peruses Ziff's work will not have an easy time putting it down. This book is more than a history of a time, a place, a movement, and a people. It is instead a sensitive and centered examination.… Her portraits of people who influenced the asylum are wonderfully rendered … alive and moving."—Samuel T. Gladding, Wake Forest University
"This well-written, accurately researched historical work tells the story of the Athens Lunatic Asylum…. This is a work that brings the reader inside the life and times of patient care in Ohio. Asylum on the Hill is highly readable, enlightening, and for those who currently work in the field of psychiatry, the story is familiar and somewhat poignant…. Highly recommended."—Choice
"People interested in the history of Ohio University's Ridges property—and there are many such in this area—may think they've struck a gold mine if they open a new book issued by the OU Press."—The Athens News
"Asylum on the Hill provides a valuable contribution to nineteenth-century American history and to the history of medicine."—Indiana Magazine of History
"By telling the story of one institution, Ziff places in context the larger picture of how professionals and the lay public thought about and cared for less fortunate individuals. Readers with diverse interests such as the history of psychiatry, medico-sociological analysis, and mid-to-late nineteenth century politics will enjoy this book."—Metapsychology