You are here
Back to top
Details in Contemporary Architecture (Hardcover)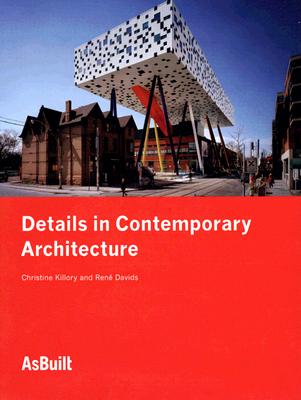 Description
---
Curious about how Alsop Architects managed to construct that flying, translucent rectangle at the Ontario College of Art and Design? Wonder about the sustainability of the Genzyme Building? The saying "the truth is in the details" reveals an essential quality of architectural design. How a staircase curves, a roof seemingly floats, or a concrete wall illuminates are critical questions for architects looking at or creating new work. You might forgive designers for closely guarding their signature techniques. Fortunately, editors Christine Killory and Ren Davids culled an amazing collection of the best trade secrets in
Details in Contemporary Architecture
.
By looking at the best work of the past two years, the book demonstrates how complicated design problems have been handled by architects to achieve beautiful, functional, innovative, sustainable, and, where necessary, economical results. Including work by David Chipperfield, Herzog and de Meuron, Morphosis, ShoP, and many other well-known firms, Details in Contemporary Architecture extensively explores the common as well as more exotic architectural detailing (screens and walls, doors and windows, roofs, bridges, and stairs) that so often gets lost in the pages and photographs of the design media.
Details in Contemporary Architecture is the first volume of a new series entitled AsBuilt. AsBuilt features details from a representative range of building types and materials of recent built work in America. The series seeks to ground both practice and theory more deeply while fostering a better understanding of the relationships between architectural form and technology.
About the Author
---
Christine Killory is a principal of Davids Killory Architecture in San Francisco.