You are here
Back to top
Love Coming Home: Transform Your Environment. Transform Your Life. (Hardcover)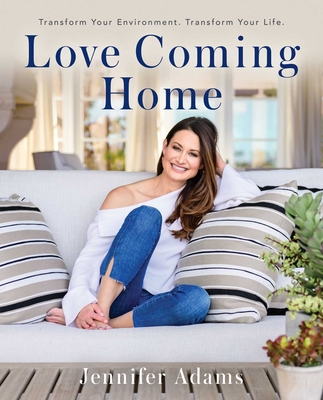 $22.00
Usually Ships in 1-5 Days
Description
---
Home is your base. Home is your sanctuary. It's where your best life begins.

This friendly guide will give you the tools and knowledge, and empower you to make wherever you livebe it rented, owned, or shareda place you will absolutely love coming home to.

No matter how much or how little someone has at a given moment, we often hold the belief that our actual dream home will be a place we will eventually move to down the road once we've saved enough and worked hard enough to achieve it. We are all striving to discover that perfect place and rarely see the potential in the place we are living in right now. Jennifer Adams, designer and founder of the international home décor company Home by Jennifer Adams®, shares her insider secrets on how you don't have to wait.

In Love Coming Home, Jennifer combines her professional designer's tool kit of proven tips and resources with her inspirational coaching experience, motivating and empowering you to turn your ideas of a dream home into reality by:

*Demystifying vision boards, the practical and powerful visualization tool
*Showing you simple steps to define, refine, and align your home projects and ideas into manageable goals
*Inspiring you to let go of restrictions and take action with confidence
*Sharing her top eleven designer secrets, and so much more

Jennifer's step-by-step, room-by-room guidance will help you create a welcoming and functioning space that expresses your unique individuality from the smallest to largest of floor plans. Your dwelling can become an environment that supports and inspires you and is your perfect sanctuary, because home is where your best life begins!
About the Author
---
Jennifer Adams is an award-winning designer, author and TV personality whose passion for calm, mindful living encourages others to do so with the same authenticity. Every day, Jennifer works to create high quality yet attainable products that reflect her own Southern California easy, breezy effortless style, believing everyone deserves to have a space they love coming home to. Her creativity, content expertise, media presence and recent graduation from Harvard Business School under the OPM Program for entrepreneurship has all contributed to the continued growth of her business, Home by Jennifer Adams®. She lives with her husband in Arizona.