You are here
Back to top
Surrealism Beyond Borders (Hardcover)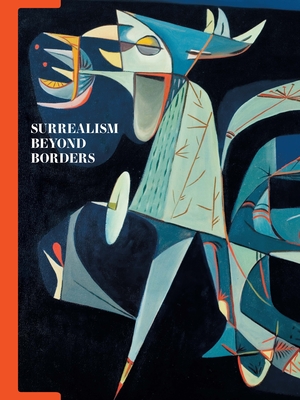 $65.00

Usually Ships in 1-5 Days
Description
---
A completely new way of looking at and understanding Surrealism, with a focus on the worldwide sweep of the movement"The variety of discoveries, detailed with exceptional scholarship in a ravishing keeper of a catalogue, defeat generalization."—Peter Schjeldahl,
New Yorker
This groundbreaking book challenges conventional narratives of Surrealism, tracing its impact and legacy from the 1920s to the late 1970s in places as diverse as Colombia, Czechoslovakia, Egypt, Japan, Mexico, the Philippines, Romania, Syria, Thailand, and Turkey. In doing so, it presents a more inclusive and accurate understanding of the fundamentally international character and lasting significance of the revolutionary artistic, literary, and philosophical movement. Vibrantly illustrated with more than 300 works of art by both well-known figures—including Dalí, Ernst, Kahlo, Magritte, and Miró—and numerous underrepresented artists, this expansive book pushes beyond the borders of history, geography, and nationality to provocatively redraw the map of the Surrealist movement, investigating how its visual languages, ideals, theories, and practices were framed or reframed in contexts far from its Parisian origins. Contributions from more than 40 distinguished international scholars explore themes such as the channels used to transmit ideas; artists' responses to the challenges of political oppression, social unrest, and the effects of colonialism; and experiences of displacement and exile in the twentieth century. 
Published by The Metropolitan Museum of Art/Distributed by Yale University Press

Exhibition Schedule:
The Metropolitan Museum of Art, New York
(October 4, 2021–January 30, 2022)
Tate Modern, London
(February 25–August 29, 2022)
About the Author
---
Stephanie D'Alessandro is the Leonard A. Lauder Curator of Modern Art and senior research coordinator in the Department of Modern and Contemporary Art at The Metropolitan Museum of Art. Matthew Gale is senior curator at large at Tate Modern, London.
 
Praise For…
---
"The variety of discoveries, detailed with exceptional scholarship in a ravishing keeper of a catalogue, defeat generalization."—Peter Schjeldahl, New Yorker

"This volume will be expansive and enlightening for anyone interested in twentieth century art, no matter how knowledgeable about Surrealism. . . . A significant model for other studies of international modernism."—Andrea Kirsh, Artblog, "Books for Holiday Giving"

"Comprises a very impressive collection of documentary and interpretive essays on many intriguing aspects of the global Surrealism phenomenon."—John Dorfman, Art & Antiques Magazine