You are here
Back to top
Electrical: An Illustrated Guide to Wiring a Safe House (Spiral)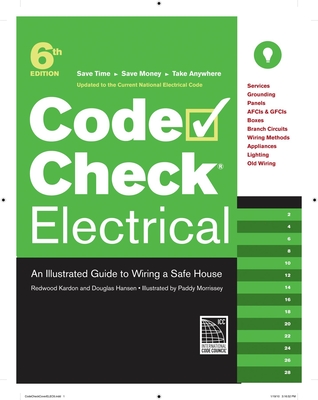 Description
---
The Code Check series provides answers to all types of building code questions. The books are filled with essential information, yet are handy enough to take to the job site.
Provides streamlined but comprehensive information on electrical code requirements. It is cross-referenced to the National Electric Code, which is updated every three years.
About the Author
---
Redwood Kardon, who devised and wrote the first "Code Check," is a former electrician and building inspector for the city of Oakland, CA. Coauthor Douglas Hansen is a general contractor and certified combination inspector with over 30 years of field experience. Both authors present seminars and classes nationwide on a wide variety of building topics. Paddy Morrissey, former senior illustrator of CornerHardware.com, has been the sole illustrator for the "Code Check" series since its inception.