You are here
Back to top
Lost Baltimore (Hardcover)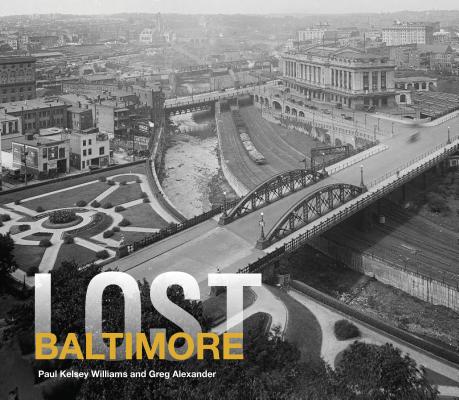 Description
---
A celebration of the cherished parts of Baltimore that are no longer
Baltimore today is visited by millions of tourists who come to see the world-famous Inner Harbor, sample mouth-watering blue crabs, take in an Orioles game at legendary Camden Yards, or explore the many cultural and higher education institutions. Locals, meanwhile, enjoy living in a city that is large enough to provide great restaurants and plenty of special events, while it retains its small-town attitude that has earned it its "Charm City" nickname. However, many locals and tourists may not know that Baltimore was once a bustling port city where manufacturing, shipping, and shipbuilding dominated the industrial center of downtown Baltimore.
Lost Baltimore features rarely published images of homes, buildings, industrial ports, and other commercial entities that have been razed, damaged, and significantly altered over the years, including the large estates of north Baltimore, Merchants' Exchange, Union Station, Electric Park, Rennert Hotel, Light Street Wharves, downtown theaters, Memorial Stadium, Hutzler's Department Store, and Bethlehem Steel. Also included are the devastating Great Baltimore Fire of 1904 and the iconic buildings that perished, such as the Baltimore & Ohio Railroad headquarters, the Sun Iron Building, and the News American Building.
Lost Baltimore also covers important historical events that have shaped the physical landscape and societal fabric of Baltimore—the heartbreaking move by the Baltimore Colts in 1984, Baltimore's early dominance as the headquarters of national political conventions, Prohibition's effect on the German breweries, the city's changing industrial and commercial makeup, as well as some of the most recent hotly contested historical preservation battles. Open these pages and take a step back in time to reveal the Baltimore that once was.
About the Author
---
Gregory J. Alexander is the proprietor of Pen and Ink, LLC, a freelance writing and editing company based in Baltimore. After earning a bachelor's degree in newspaper journalism from the University of Georgia in 1993, Alexander has worked at three daily newspapers, including, most recently, the Baltimore Sun as special sections manager. Since launching Pen and Ink, he has written for a variety of local and national newspapers and magazines. Alexander is also executive editor at Stone House Publications, overseeing two magazines—Mason-Dixon Arrive, a monthly lifestyle magazine, and I95 Business, a business magazine covering the northeast Maryland corridor. He is the co-author of three books: Images of America: Woodley Park, Images of America: Capitol Hill and A Brief History of Charles Village. Paul Kelsey Williams has an educational background in historic preservation and architecture from both Roger Williams and Cornell Universities. Since 1995, he has been the proprietor of Kelsey & Associates, "The House History People," focusing on individual house and building research in Washington, D.C. and beyond. He is the author of 12 books on Washington, D.C. neighborhoods, institutions, and themes, the Charles Village neighborhood in Baltimore, and books on his childhood residences of Skaneateles and Owasco Lakes in upstate New York. Williams maintains a daily blog on Washington, D.C. history at The House History Man, and is completing a book on how to research your own house history. He is also the author of Lost Washington, D.C.
Praise For…
---
"A splendid work. . . a visual treat and historical journey." —Baltimore Sun

"Offer[s] a clear, concise vision of the storied city's past" and that "images of buildings that no longer exist illuminate a side of Baltimore no contemporary visitor to the city could see, as does the the lore recounted by the authors."  —Publishers Weekly