You are here
Back to top
My Life in Pacific Grove: A Memoir (Hardcover)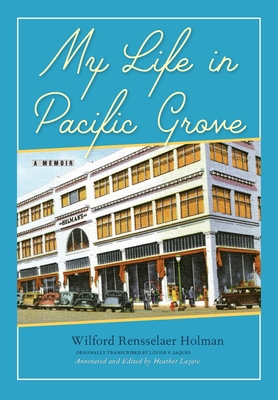 Description
---
At one time, it was the biggest department store between San Francisco and Los Angeles, with orders pouring in from all over the nation. John Steinbeck immortalized it in the pages of Cannery Row. And it all happened in a quiet village on the California coast.
Step into the legendary Holman's Department Store and meet its remarkable owner, Wilford Rensselaer Holman, in My Life in Pacific Grove. Follow Mr. Holman from his arrival in Pacific Grove as a small boy in 1888, through his years of transforming his father's modest dry-goods store into a local retail giant, to his final triumph with the dedication of the W.R. Holman Highway in 1972.
Of particular interest to Steinbeck enthusiasts are never-before-published letters exchanged between Steinbeck and Mr. Holman's wife, Zena, showcasing the Nobel laureate's wry and self-deprecating humor.
My Life in Pacific Grove is based on Mr. Holman's memoir, edited and annotated by his great-granddaughter-in-law, Heather Lazare, and includes more than 150 rare, historic photographs, news clippings and ephemera. Through these pages, you'll ride the Santa Claus Special, visit the world's largest holly farm, and discover the real story behind the fabled flagpole skater. A must-read for local history buffs, My Life in Pacific Grove is sure to delight both life-long residents and newcomers to Butterfly Town, USA.