You are here
Back to top
El obstáculo es el camino: El arte inmemorial de convertir las pruebas en triunfo (Paperback)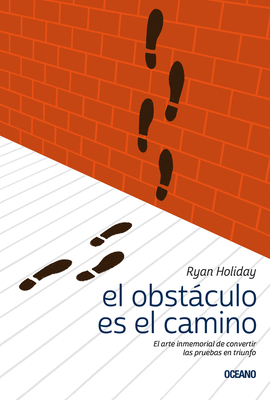 $12.95
Email or call for price
Description
---
Como expone Ryan Holiday en este revelador volumen, los obstáculos no son sólo instancias en el camino que debemos vencer: también pueden ser una fuente de inspiración y, aún más, una herramienta para convertir las crisis en oportunidades, y los reveses en escalones para el éxito.

Obstacles are not merely objects in our path that we need to overcome. They can also be a source of inspiration, or even a tool for turning crisis into opportunity and setbacks into steps to success.
About the Author
---
Ryan Holiday is an American writer, marketer, and entrepreneur interested in personal and corporate development. He is the media editor for the New York Observer and has written for Forbes, The Huffington Post, and others. He also wrote Trust Me, I'm Lying. 
Praise For…
---
"The book on stoicism that's taking the NFL by storm." —Sports Illustrated, on the English language edition

"Follow these precepts and you will revolutionize your life. Read this book!" —Steven Pressfield, author, The War of Art and Gates of Fire, on the English language edition

"A book for the bedside of every future—and current—leader in the world." —Robert Greene, author, The 48 Laws of Power and Mastery, on the English language edition

"An absolute must-read." —Jimmy Soni, managing editor of Huffington Post, author, Rome's Last Citizen, on the English language edition

"First came Marcus Aurelius, then Frederick the Great . . . and now there's you. This surprising book shows you how to craft a life of wonder by embracing obstacles and challenges." —Chris Guillebeau, author, The $100 Startup, on the English language edition

"A very, very good book with lots of examples about people who had to overcome great obstacles to have success." —Nick Saban, head football coach at the University of Alabama, on the English language edition

"In this tight, engaging book, Ryan Holiday shines a bright, powerful light on the path to living and leading well. Read it, learn from it, and get cracking!" —Nancy F. Koehn, historian and leadership expert, Harvard Business School, on the English language edition

"My life has been beset with obstacles. It takes practice (and pain) to surmount them and achieve success. Ryan's book is a how-to guide for just that." —James Altucher, investor and author, Choose Yourself, on the English language edition

"Ryan Holiday has written a brilliant and engaging book, well beyond his years. . . . It is invaluable." —Honorable Frederic Block, Judge, U.S. District Court, on the English language edition

"Even though I was familiar with the basis for this book — the ancient philosophy of stoicism: overcoming obstacles through the practice of wisdom, courage, self-control, and mindfulness — it felt like a revelation when I read it." —Los Angeles Daily News, on the English language edition