You are here
Back to top
Nimona (Paperback)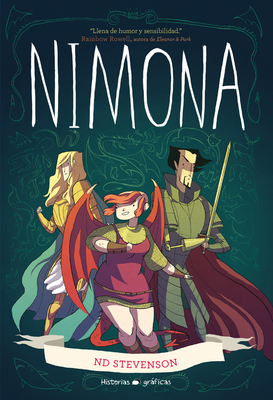 Description
---
Surgida originalmente como un comic web (una historieta publicada en la red), llega ahora la versión impresa de Nimona, extraordinaria novela gráfica capaz de fascinar a jóvenes y adultos por igual. Un libro que ha lanzado al estrellato a su jovencísima autora, Noelle Stevenson. Esta obra combina aventura, acción y humor en un contexto donde cabe lo mismo la fantasía heroica que la ciencia ficción. Todo ello desde una perspectiva rabiosamente contemporánea. Nimona es una joven deslenguada y bravucona, con la habilidad de cambiar de forma a voluntad. Sin pensárselo dos veces, la chica decide convertirse en ayudante del Señor Trabuco Negroni, un villano con un oscurísimo pasado. Ambos personajes vivirán una aventura que sorprenderá a los lectores por sus inesperados giros argumentales.

Originally created as a web comic book series, Nimona is an extraordinary graphic novel capable of fascinating young people and adults that has thrown its author, Noelle Stevenson, into stardom. Nimona is an impulsive young shapeshifter with a knack for villainy. Lord Ballister Blackheart is a villain with a vendetta. As sidekick and supervillain, Nimona and Lord Blackheart are about to wreak some serious havoc. Their mission: prove to the kingdom that Sir Ambrosius Goldenloin and his buddies at the Institution of Law Enforcement and Heroics aren't the heroes everyone thinks they are. But as small acts of mischief escalate into a vicious battle, Lord Blackheart realizes that Nimona's powers are as murky and mysterious as her past. And her unpredictable wild side might be more dangerous than he is willing to admit.
About the Author
---
Noelle Stevenson has been nominated for a Harvey Award, and was awarded the Slate Cartoonist Studio Prize for Best Webcomic in 2012 for Nimona. A graduate of the Maryland Institute College of Art, Noelle is the co-writer of Lumberjanes. She lives in Los Angeles.