You are here
Back to top
The American Accent Learnway As One, On the Summit (Paperback)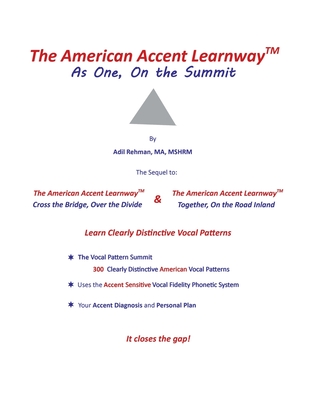 Description
---
The Third Coursebook of the AMERICAN ACCENT LEARNWAYTM.
This is the final Coursebook of the American Accent Learnway. It follows Coursebook One, "The American Accent Learnway - Cross the Bridge, Over the Divide" and Coursebook Two, "The American Accent Learnway - Together, On the Road Inland".
Together, with the Vocal Pattern Bridge Table in Coursebook One and the Vocal Pattern Inland Table in Coursebook Two, the Summit Table in this Coursebook will provide you with the means to diagnose your own Accent by identifying the Vocal Patterns you vocalize differently than Americans. In so doing, you will create a personal Development Plan, targeting these for relearning, the American way.
Also, with the Bridge and Summit Vocal Pattern Tables, the Inland Table will serve as an integrated, comprehensive "Look-Up" of Distinctive Vocal Patterns for your anytime reference and continued learning, enabling you to retrain your Accent.
The Summit Table covers 300 clearly Distinctive Vocal Patterns, said in the American Accent - compared with the British. They are "Significantly" Distinctive and therefore make a noticeable impact on Accent. In terms of level of Distinctiveness, these Vocal Patterns are more subtle than the most Distinctive covered in the Bridge Table and the very Distinctive covered in the Inland Table. Because of this, these Vocal Patterns are more likely to have escaped your attention. The Summit Table now enables you to identify these and make the changes you need.
While Coursebook One, takes you most of the way and Coursebook Two builds on this progress to take you almost all the way, Coursebook Three then addresses the final gaps that might otherwise persist.