You are here
Back to top
The 2021 Old Farmer's Almanac Gardening Calendar (Calendar)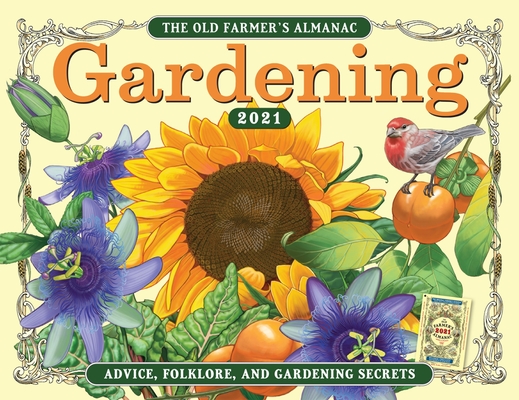 $9.99
Email or call for price
Description
---
From the folks who taught generations how to grow comes a perennial favorite for more than 40 years: The Old Farmer's Almanac Gardening Calendar is for nature and gardening lovers alike. Each month features an edible, an ornamental, or a creature from the natural world in a stunning illustration commissioned for this use, with mini-feature captions that include guidance for growing the plants shown in the art.
 
Among this edition's topics: jade plants as pass-alongs, the dragonfly, sunflowers, cabbages, oyster mushrooms, and cyclamen. Of course, it wouldn't be from The Old Farmer's Almanac if it didn't give you the best times for planting, gardening/weather proverbs, plant fun facts, insightful quotes, and gardening secrets for the entire year. Get growing with . . .
 
· original full-color illustrations
· time-tested tips, whimsical folklore, and charming seasonal advice for novice and experienced gardeners
· an exclusive "Best Days" table to help you to plant according to the Moon's phases and your area of the country
· major U.S. and Canadian holidays and celebrations
· lunar and solar eclipses
· Moon phases (new, quarters, full), including traditional names like Full Harvest Moon
· previous and next month grids on each month's calendar
· 2021 and 2022 calendars for preplanning
· easy-to-use, handy size: 10-7/8"W x 8-3/8"H; opens to 10-7/8"W x 16-3/4"H
 
Get one for yourself and another to pass along!
 
Enjoy the wit and wisdom of The Old Farmer's Almanac with their other beautiful 2021 calendars: Country, Weather Watcher's, Moon, Everyday, and Engagement.

Please note: This calendar features an entertaining item for every day; it does not contain The Old Farmer's Almanac's famous weather predictions for North America (space does not allow us to include forecasts for the 25 regions!). However, you can always find the weather forecasts in The Old Farmer's Almanac annual publication or at Almanac.com/weather.
 
About the Author
---
America's best-selling annual publication, with facts, feature articles, and advice that are "useful, with a pleasant degree of humor."